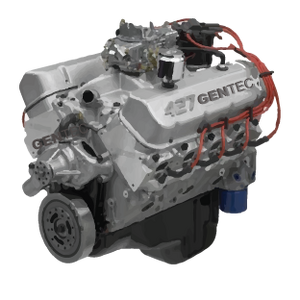 The Most Commonly used Engine by Road Warriors, this Engine provides a good level of Power at a reasonable Weight and Cost.
Facts and Figures
Edit
These Engines are typically built for PZ Enforcer Vehicles but a good deal of them are available on the market especially stripped down from trashed Ops Team Vehicles and PZ Enforcer Cars.
Weight: 200
Cost: $10,000
Depending on the final weight of the Vehicle the performance of the Engine can vary significantly, consult the chart below when you have finished building the Vehicle to determine its Braking, Acceleration, Max Speed, and any modification the weight might have to the Vehicles Handling.
V8 Engine Speed Chart
Edit
| Weight | Braking | Acceleration | Max Speed | Handling |
| --- | --- | --- | --- | --- |
| 800 or less | 30 | 30 | 142 | +1 |
| 801 - 1000 | 26 | 28 | 136 | +1 |
| 1001 - 1200 | 24 | 26 | 128 | +0 |
| 1201 - 1400 | 22 | 24 | 120 | +0 |
| 1401 - 1600 | 20 | 22 | 116 | +0 |
| 1601 - 1800 | 20 | 20 | 112 | +0 |
| 1801 - 2000 | 18 | 18 | 108 | -1 |
| 2001 - 2200 | 16 | 16 | 104 | -1 |
| 2201 - 2400 | 15 | 15 | 100 | -1 |
| 2401 - 2600 | 14 | 14 | 96 | -2 |
| 2601 - 2800 | 12 | 12 | 92 | -2 |
| 2801 - 3000 | 10 | 10 | 90 | -2 |
| 3001 - 3200 | 8 | 9 | 88 | -3 |